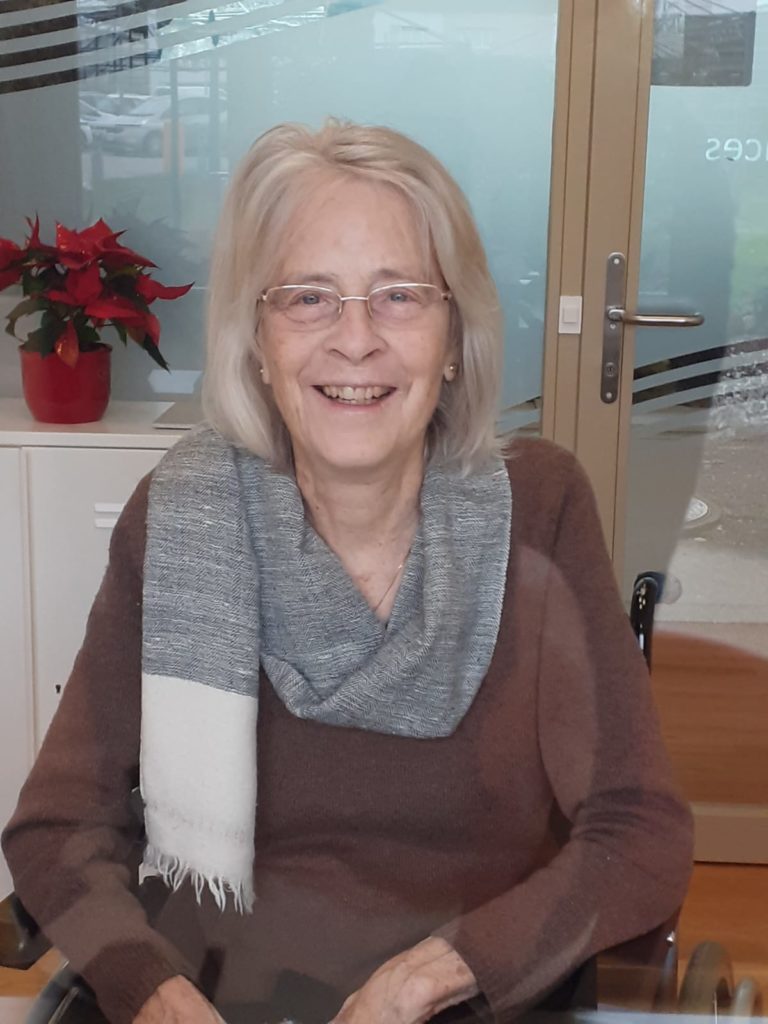 Machteld Kelsey RIP
02.01.1940 – 19.03.2021
We are very sad to announce that Machteld, a much-loved member of our La Côte Church family, died last Friday at her care home in Etoy.  Sad for us – but a blessing for her, to be at peace in the eternal light and love of Christ and reunited with her beloved husband, Denys.
We are so thankful that her close friend, Isabelle, was able to visit her just before she died and to know that Machteld was not alone when she passed away. After Machteld was diagnosed with an inoperable brain tumour last November, she received palliative care in Aubonne and then moved to a care home in Etoy.  In both places, Machteld was very serene and happy and full of praise and gratitude for the wonderful care she received.  She was free of worldly cares and ready to go 'home'.
Machteld was a wonderful, caring, compassionate, faithful member of the Prayer Group and Bible Study, having hosted both groups in her home, as well as Pastoral Care, a leader of intercessions, chalice-bearer, welcomer, representative to the local ecumenical World Day of Prayer services, and a member of that small band of unsung heroes who set-up for services and clear-up afterwards.  She loved decorating the church with flowers and arranged sales to raise funds for a Romanian village.  Machteld was committed and meticulous in everything she took on – she always sat in the same place in church and was never late!  She will leave a big gap in our community when we all emerge from this pandemic …
A service to celebrate and give thanks for Machteld's life, to entrust her to God and bid farewell, to comfort each other in our loss, will be led by Carolyn in Gingins Church on Monday, 29 March at 14h. Attendance in person will be limited to 45, due to safe distancing in these Covid times, and so registration in advance is essential – by Sat. 27 Mar. please – with Liz Bramley. The service will be livestreamed, from 13.45, so all those who are unable to attend in person can follow the service online, on this link: https://youtu.be/R3ZIHbG88v4. For the order of service, click here.
We extend our sincere sympathy to all Machteld's family and friends here, in the Netherlands and the UK.  If you would like to write, Machteld's step-daughter Cherry is collecting messages on behalf of the family: Cherry Kelsey, 18 Springfield Terrace, S. Queensferrry, EH30 9XF, Scotland, UK. cherrybkelsey@googlemail.com
Cherry has also set up an online Book of Remembrance at: https://www.forevermissed.com/machteldtilly-anna-kelsey-vanvredenburch/
The family has requested no flowers, please, but donations in memory of Machteld may be made to Médecins Sans Frontières.
On Wednesday 17 March 2021, Chris Talbot led the first of two Lenten Seminars on the theme of Distorting the Truth and Manipulating Fear. The seminar examined that theme from the perspective of political power. Here is the PowerPoint presentation that Chris showed, slightly edited. And here is an accompanying paper with the text from which Chris spoke.
The Bible – like sacred scriptures of other religions – contains some problematic passages – and even whole books. Many of these difficult sections seem to suggest that God encourages or even mandates violence. How can and should Christians respond to these 'bloody bits'? What do they imply for our understanding and interpretation of scripture? Click here to watch this Zoom study session led by Dr Clare Amos looked in detail at some of the problematic passages of Joshua and Judges, and then explored the wider implications for our understanding and use of the Bible.  Click here for the handout.
STORIES OF EVERYDAY FAITH
Dwight & Laurence's lockdown allotment
Emily's Covid-19 Experience
Eoin - Life during Covid 19
WHO is thinking about LCAC
John Tracey Everyday Faith
Gigi von Tscharner - Business continues
Phil Clifton - Everyday faith