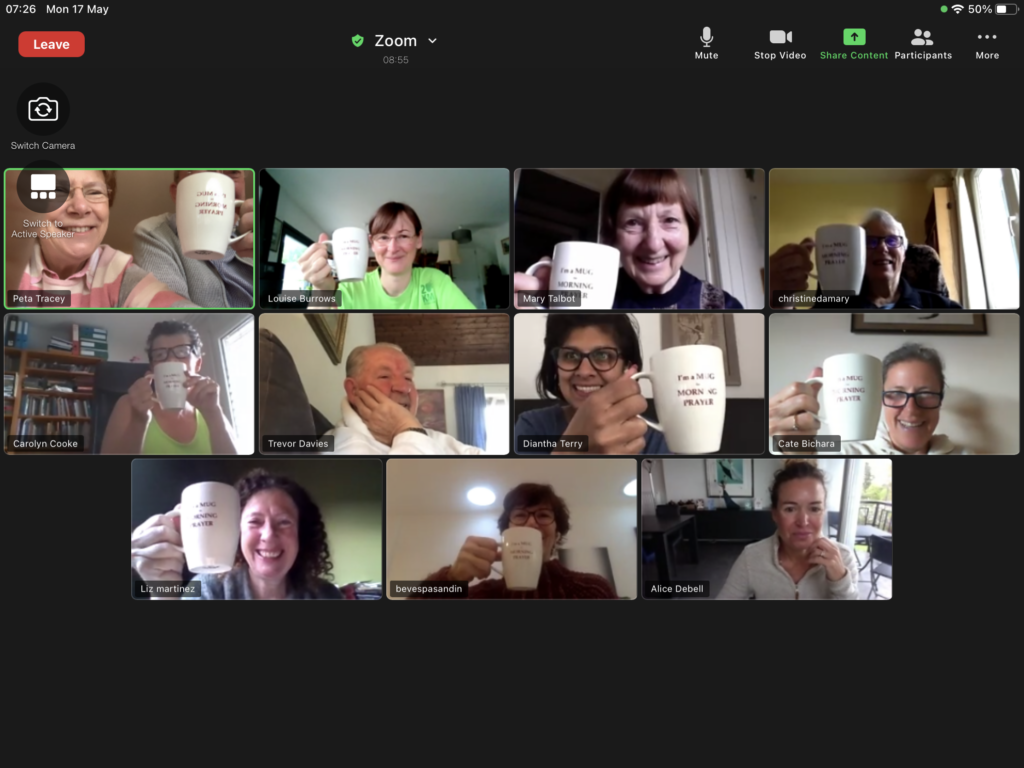 Ever since the start of the pandemic, a group of us has been meeting on Mondays to Saturdays for morning prayer on zoom. We are an ecumenical group from churches in Switzerland and France and have welcomed people from as far away as South Africa and the USA. You are welcome to join us either to dip in and out or attend regularly. Here you see some of us with our Morning Prayer mugs!
07.30-8.00 Monday to Friday
08.30-9.00 on Saturdays
Zoom invitation https://us02web.zoom.us/j/85122087785
TUESDAY MORNING BIBLE STUDY
Bible study alternates with the Prayer group. This is an opportunity to explore the Bible and share our experiences on how it applies to our lives. It is an informal meeting, open to all and ecumenical in nature. We are currently exploring the Gospel of Matthew. Please feel free to join us and get in touch.
This group meets every other Tuesday from 09h15 to 11h00 at the Davies' home in Founex.
TUESDAY MORNING PRAYER GROUP
Prayer Group meets every other Tuesday morning at the Traceys' home in Coinsins, or at Ted Talbot's in Trélex, from 09.15 to 10.30. Our prayers are for the world, our church family, those known to us and those who have asked for prayer in confidence. Believing that prayer is at the heart of our church community, we are constantly giving thanks for answered prayer. Silence is important too. Around ten people regularly attend. Between us there is the strictest confidence in the names we mention and we welcome your requests for prayer. 
This group meets at 19:00 on the second and fourth Thursdays of the month in the parish rooms of Catholic Church, Notre Dame à la Colombière, in Nyon.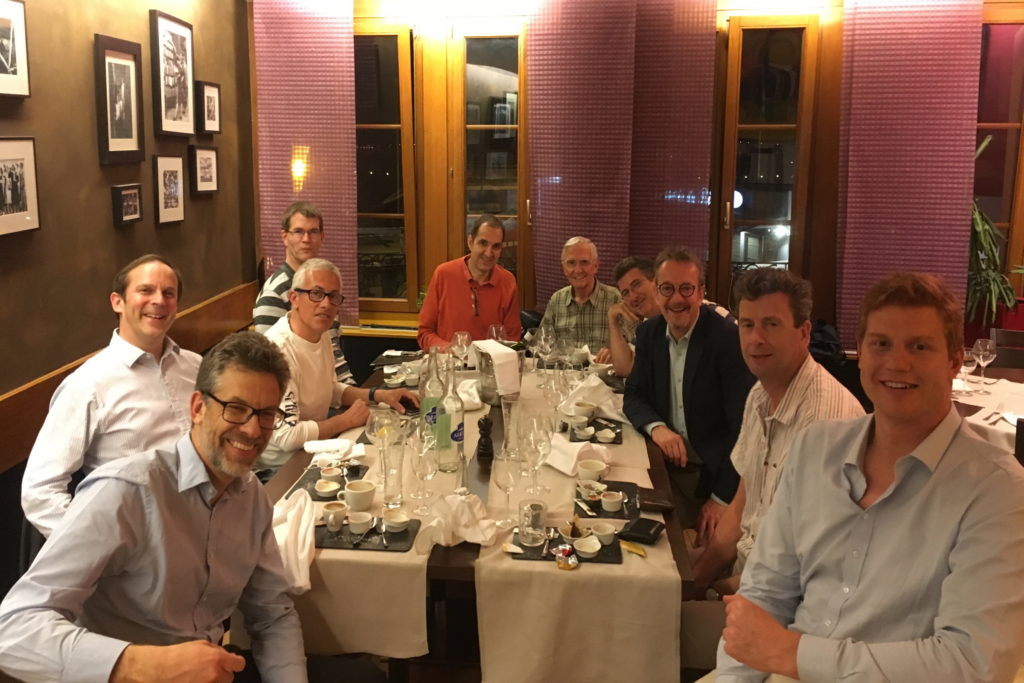 We typically number about 12 and share evening dinner together while discussing contemporary issues from a faith perspective. Recent themes have included "Men and Feminism", "Why we go to Church", "What does it mean to live a life of Abundance?". We meet in the Prieuré, a community room adjacent to the Temple in Nyon. With the space to ourselves and home cooking on offer, the Blokes' Dinners are as popular as ever. All (men) are welcome. Contact David Cooke for details.
This group meets on the third Thursday of every month.
Ted's house, on the first Sunday evening of every month provides a convivial setting for a chat over a glass of wine, the striking up of new acquaintances with great live music. The evenings are not just to provide great live music, but to create an opportunity to meet old and new friends, invite neighbours, discuss burning issues or merely relax in pleasant company.  These wonderful, talented people come and perform completely free of charge and this last year, the music has varied from Irish folk, to classical opera, from jazz to join in and sing from music hall favourites to Christmas carols.
Drop-Ins are from 7.0 pm to 10.0 pm at 9b Route de Duillier, 1270 Trelex, with drinks and cold buffet provided, (cover charge: SFr.8.00).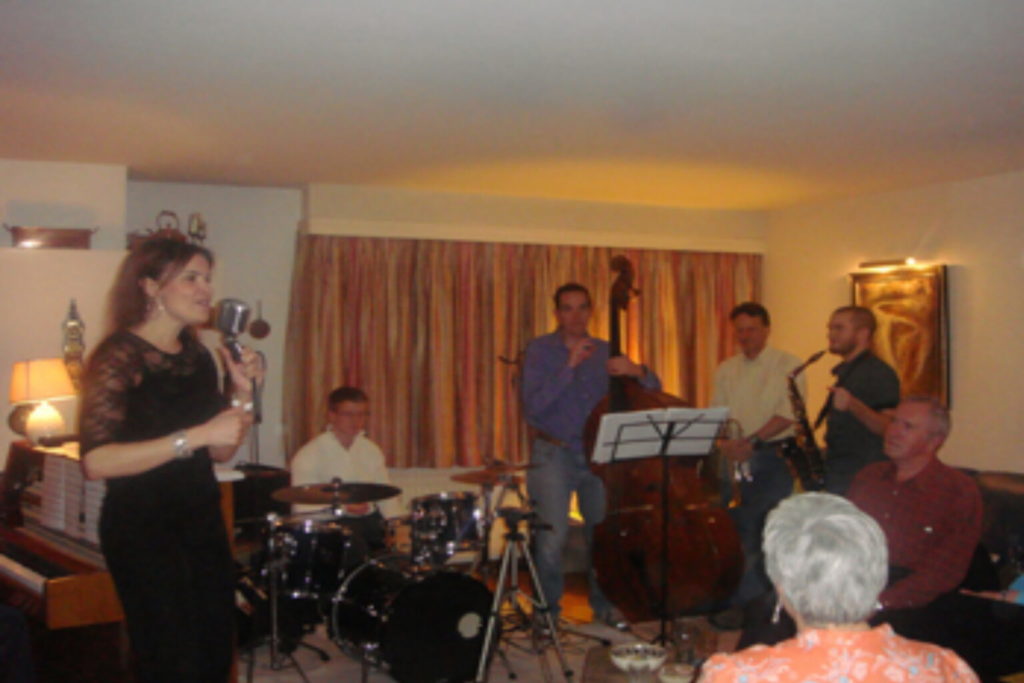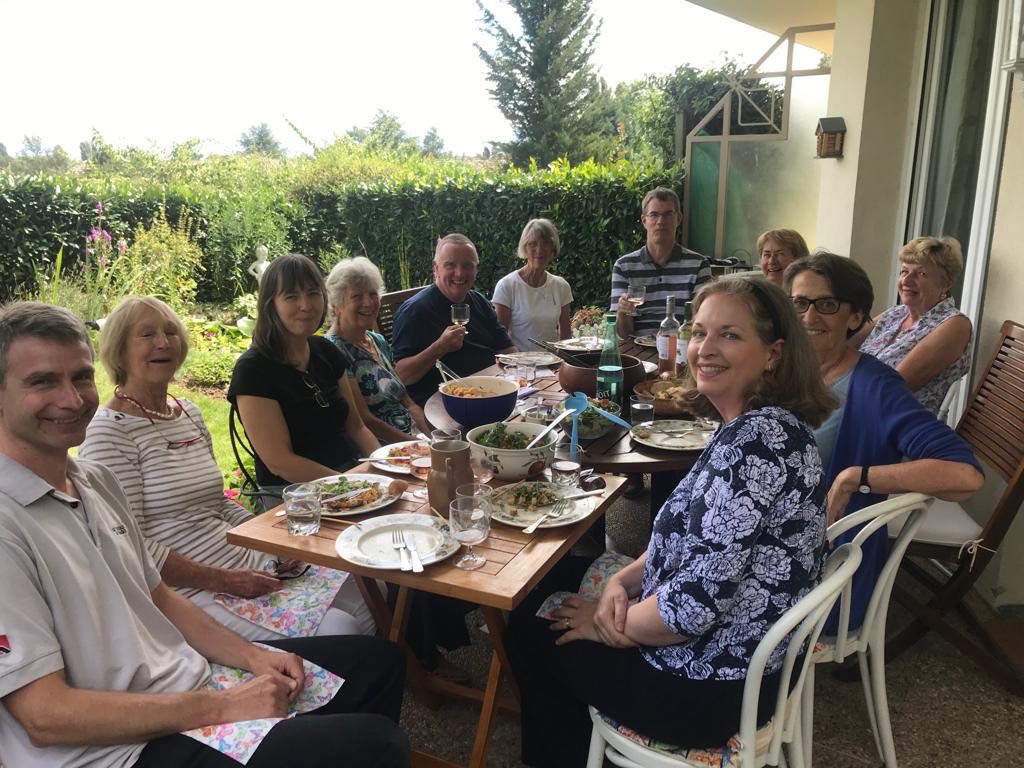 The Divonne Song Group, led by Richard and Heidi Hawkings, sings at various services throughout the year including on Palm Sunday, Pentecost, at the Harvest service, Remembrance service, and the candlelight carol service, as well as supporting the music for the nativity play. Numbers are around 16. We sing a range of music, from modern songs to more traditional pieces that allow us to sing in four-part harmony (sometimes a cappella). Some wonderful musicians have also accompanied us on occasion. Rehearsals take place periodically on Sundays after the morning service. For more in depth practices, members of our congregation have kindly hosted us in their lovely home. New voices are always welcome, so please let Heidi Hawkings email know if you would like to join us.
The Gingins Song Group meets once per month, usually, on a Tuesday evening, for a practice in Luins. We accompany the congregation in Church on the third Sunday of every month and also at important festivals, such as on Christmas Eve and Easter Sunday. Practices are an important part of the package and friendship has developed thanks to round the table discussions.The camaraderie and fellowship are very strong and after practice sessions we enjoy a glass of wine, nibbles and a good chat! Our aim is for us all to enjoy being together, taking pleasure in leading and singing with the congregation – and we all know that we do not have to be accomplished musicians and trained singers to do that! We would be happy to welcome more male voices. Interested guys, please contact Margaret.
We have continued to deepen our involvement with our neighbours in the asylum community. Members of the Social Action team make a weekly collection of clothes and other needed items that are delivered to the two Day Centres closest to us. We also set up and ran a local Garden project. Through the generosity of parishioners, we have provided a variety of much needed items for individuals and families being moved into private housing. Members of our church have also offered accommodation/rooms to rent to individual refugees who have been granted permission to stay but who struggle to find accommodation of their own. In addition, we offer language lessons and conversation, mainly English and weekly Art Therapy sessions at the Gland Day Centre. 
We are a very friendly group of ladies (though we do not exclude men or even the odd dog!) who meet fortnightly on a Friday morning from 9.30 – 11.30 am in the church parish room in Gingins. Our group is a place of encouragement, sharing and edifying in our Christian walks and lives. We choose a topic that can last from a term to a year. We have just been studying the 'I am' sayings of Jesus by Andrea Skevington. We are currently 20 on our mailing list but a regular 10 or so attendees. We love newcomers and we love a party! For the last couple of years we have had a weekend mountain retreat called a 'Prosecco & Prayer Weekend'. This has been an excuse to party and socialize along with spending some time in beautiful mountain scenery and some quiet reflection.